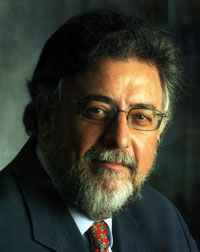 Professor Giannis Panousis is a member of the Faculty of Communication and Media Studies of the National and Kapodistrian University of Athens and former Rector of Democritus University of Thrace.
He teaches Criminological Sciences with emphasis on Criminology as a Control and Communication System.
His research interests lie in the fields of Criminology, Punishment Law, Police Investigation Practices, the Manufacturing of Violence and Crime in the Media, Crime in the News, The Image of the Criminal, the Sociology of Deviant Behavior, Social Exclusion and Marginalization.
Professor Panousis has obtained an undergraduate degree in Law and an undergraduate degree in Political Science, both from the National and Kapodistrian University of Athens, a DEA en Sciences Criminelles from Universite de Poitiers, and a Doctorat en Sciences Criminelles from the Universite de Poitiers.
He has authored or co-authored more than 20 books and 200 scientific articles. His scholarly work has appeared in leading journals, including "Revue de Science Criminelle et de droit penal compare", "The criminologist", "Rivista di Polizia", "Archives de politique criminelle", "Eurocriminology" etc.
He currently teaches the courses: "The construction of Violence and Crime in the Media", "The 'Image' of the Criminal", "Anti-Criminal Policy, Communication and Security".
Recent Articles in English
Contact information
Professor Giannis Panoussis
5 Stadiou str., 7th floor, Athens 105 62, Greece
Phone: (+30) 210 368 9418,
Fax: (+30) 210 368 9450
E-mail:
panousis@media.uoa.gr